Payment can be made using Visa, Mastercard, Maestro, PayPal, PayPal business, Ideal, and any issuing bank. For travel agencies, it is possible to pay from the partner balance (after authorization as an agent) or via PayPal business, or bank transfer.
Transfer orders can be placed in any of the proposed currencies: EUR, USD, GBP, AED, and 14 other currencies.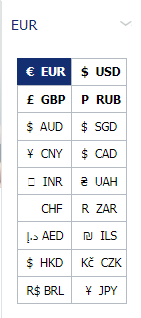 Depending on your chosen payment scheme, funds are debited either in the amount of 100% pre-payments or partial prepayment.
Partial pre-payments are partial prepayments from the card online and the remaining amount on the spot - this type of payment is available only on particular routes. Information about the possibility of a partial payment option is available at the time of booking. Payment methods information and in what currencies it can be made is also provided on the checkout booking page.
Delivery: A voucher for transfer will be sent to your email after the payment and confirmation from the transport company. Also, the voucher will be available for download in your Personal Account on Intui.travel
All useful questions and answers  https://en.intui.travel/faq/