How to find the transfer I need at Intui?

We told about 5 ways to find the transfer you need on Intui in a short video:
1. By the name of the hotel/apartment
Using this method, you only need to enter the name (or part of it) of the hotel/apartments and the system will suggest it to you in the drop-down list.
2. By the address of the hotel/apartment
If your hotel was not found, click on the "Search by address" field in the search form, paste the address of your hotel there and the system will determine in which resource/city your hotel is located.
The address of the hotel is often indicated in the booking voucher, as well as on the hotel's website. It is also easy to find it on by looking up the hotel on a map.
3. Using the name of a city, resort
In this case, all you need to do, is to insert the name of the city or the resort in which your hotel is located in the "Search by address" field. It is also indicated in the vouchers and can be found by looking it up on the internet
4. Using GPS coordinates
In order to find the transfer to the desired location, you can copy and paste the GPS coordinates into the "Search by address" field and the system will suggest you a list of possible pick-up locations. GPS coordinates of the hotel/apartments can usually be found on maps.

5. Step by step, through the transfer catalog
Here everything is simple, you click on the "Transfer Catalog" section, which is located at the bottom of the Intui homepage or at the following link https://en.intui.travel/transfer/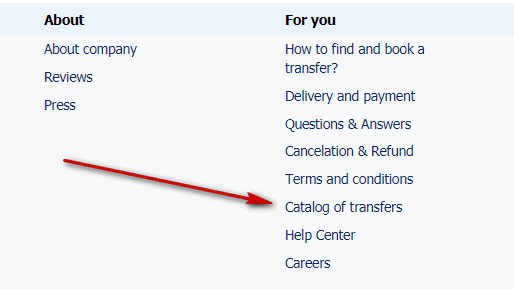 Then choose the desired country, then the airport / port / railway station from which or to which you need to get and see the full list of possible transfers. All there's left to do is choose a car and complete the request with dates and the number of passengers.
Feel free to book and enjoy your trip!